On Saturday, March 14th, 2015, I had the great opportunity of following Jim Ward of Jim Ward's Whitetail Academy around on an all day habitat tour on Andy Hayes' 63 acre property in west-central Indiana.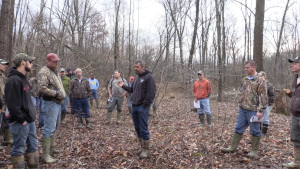 I have known Jim for a number of years and consider him to be one of the best habitat consultants in the country.
I put together this video so that other whitetail habitat enthusiasts can share in the experience. It is almost two hours long so is not for the casual viewer, but instead, is aimed at the serious whitetail habitat enthusiast.
Jim tells it like it is. He has no sponsors to cater to and freely shares whatever he knows with anyone interested in hearing it. So if he tells you to use a particular product or method, he really believes in it, and is not just selling you a load of horse puckey from a script written by someone trying to sell you something.
After hiring Jim, Andy went from a frustrated guy who seldom saw a mature buck to a happy, successful hunter who consistently kills great bucks. His experience is documented in his blog at All Things Whitetail.
For your pleasure, I bring you "Whitetail Wisdom with Jim Ward: A Property Tour."
Share and Enjoy