When it comes to whitetails, the word mature has many meanings.  It is often used to discuss a 2.5 year old or older buck.  But in fact, from a biologists's perspective, a whitetail does not reach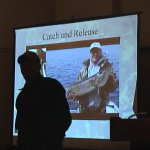 maturity, defined as attaining 90% of his body and antler mass, until around the age of 4.5 to 5.5.
Here, in a presentation I did a few years ago to a steelhead fishing group (all of whom were deer hunters) I describe the stages of life of a whitetail buck in terms that I hope will make it easy for people to understand.
Based on my background as a scientist studying genetic diseases and gene therapy, I furthermore discuss the subject of what genetic traits might help a whitetail buck survive to adulthood under extreme hunting pressure like we experience here in southern Michigan.  It has nothing to do with antlers and everything to do with personality and demeanor.
The only genetic traits that can affect harvest potential during a buck's youth, are one's that he expresses throughout his life. In the case of antler development, since the true potential does not arrive until adulthood, it is not possible for antler development to influence survival under selective pressure.
In human terms, you can look at a youth and spot personality characteristics such as shyness or boldness, but you cannot look at him and determine if he will have male pattern baldness because that trait is not fully expressed until later in life (like antlers).
Share and Enjoy