EXTREME DEER HABITAT is an educational site dedicated to helping landowners get the most out of their deer habitat, with an emphasis on the use of a chainsaw to shape your property. Dr. Jim is a leading expert on the subject of hinge cutting trees for deer habitat.  He will help you to gain an understanding of how to control deer movement on your property through habitat improvement that lead to optimal deer habitat.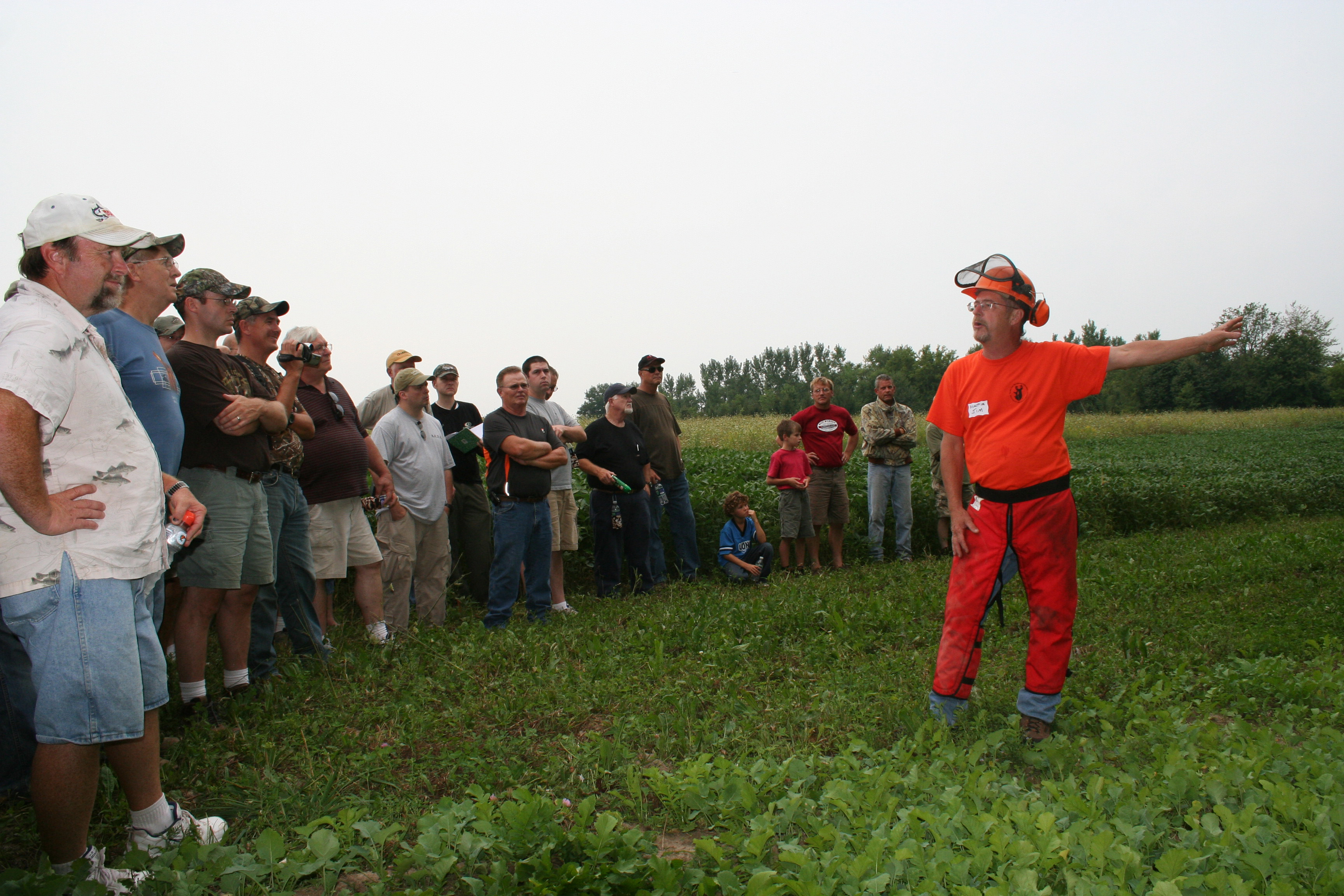 Dr. Jim's 2015 buck
Captured on video, Dr. Jim killed this 11 point buck on the last day of early archery season at mid-day after watching him chase at a distance for a couple of hours.
Dr. Jim killed the largest buck of the year 2014 in the crossbow category according to Commemorative Bucks of Michigan. 
Watch the self-filmed video of the killing of the huge buck known as "The Stranger":
 The book is out.  BUY NOW!
Read what others have said about Dr. Jim's book of teachings about hinge cutting for deer habitat, control of deer movement on your property, design of small properties for deer habitat, scent control for deer hunting and much more.
Leon Hank, National Vice Chairman of the Quality Deer Management's Board of Directors said: "I've read a lot of good habitat and deer management books over the years, but this is one of the best. It's loaded with good ideas and practical tips for everything you need to create perfect habitat on your piece of Heaven. There's also great chainsaw safety lessons that all of us can use."
Praise for the book from the QDMA Forums:
"…excellent…very informative and detailed."  James P. Bipps

"A lot of the info contained in it can literally be found nowhere else. Best source of detailed, 

useful information on the art of hingecutting that exists." farmlegend

"…his book also contained the most in depth explanation of the importance of and how to's for 

scent control I have ever seen." Chainsaw

"I have read many habitat books over the years (although very few "how to hunt deer" 

books) and only about half way through at this point but this is one of the 

best I have read. I think reading this book would particularly inspire any 

small property owner. I would have loved to have had something like this when I 

first got started in habitat management as it covers so many topics beyond 

hinge cutting."  The GrizzledSkipper

"It was a great read with a ton of great information." Michbowhunter

"This is a great book with a lot of good information. I definitely recommend reading it." ALwoodsman

"Great read and a very worthwhile purchase." Elkaddict

"I finished reading the book(for the first time) and thoroughly enjoyed it. Great information…If 

you haven't read this book yet, your missing out." mthornton99

Referring to chapter 10: The Story of the Big 6:   "This was a great story and a super ending. It had my hair standing up and chills 

running down my back. It was as exciting as if I had been there. You have set a high bar for the next book writer. 

It was an incredible story incredibly written." Chainsaw
From the Michigan Sportsman's Forum:
"WOW I just got done reading the book, I started this morning and read all of it. I skipped all of the videos so I am 

going to go back through and watch all the videos tomorrow. Thank you for the chainsaw 

safety and cutting info. I thought I new a lot about cutting until I read it." BIGJEEPMAN

"Congratulations on your release of this book. Reading it has been thoroughly enjoyable and I'm 

learning a lot." IronMike

"…a real eye opener for everyone of all skill levels. The e-book format is awesome and topics are well presented." RMH

"Wow!  Awesome content. Excellent book, Jim, Congratulations. You could spend five years browsing forums for information on 

shaping deer habitat with a chainsaw. Or you could read this book."  StevenJ

"…a great resource for all habitat managers." DROPTINE

"…wow what a book! how can you beat learnin with great pictures, good explanations, and videos, 

that you can reference over and over. worth waaay more than your askin price to 

me!" polish.polka.prince

"Very nicely put together and great information as always. Really enjoyed the 'final' chapter as 

well – Great story! Thanks for sharing it." MidMich_007
This book is jam-packed with cutting edge information on how to improve the habitat on your deer property. It includes over 480 color images and 48 video links.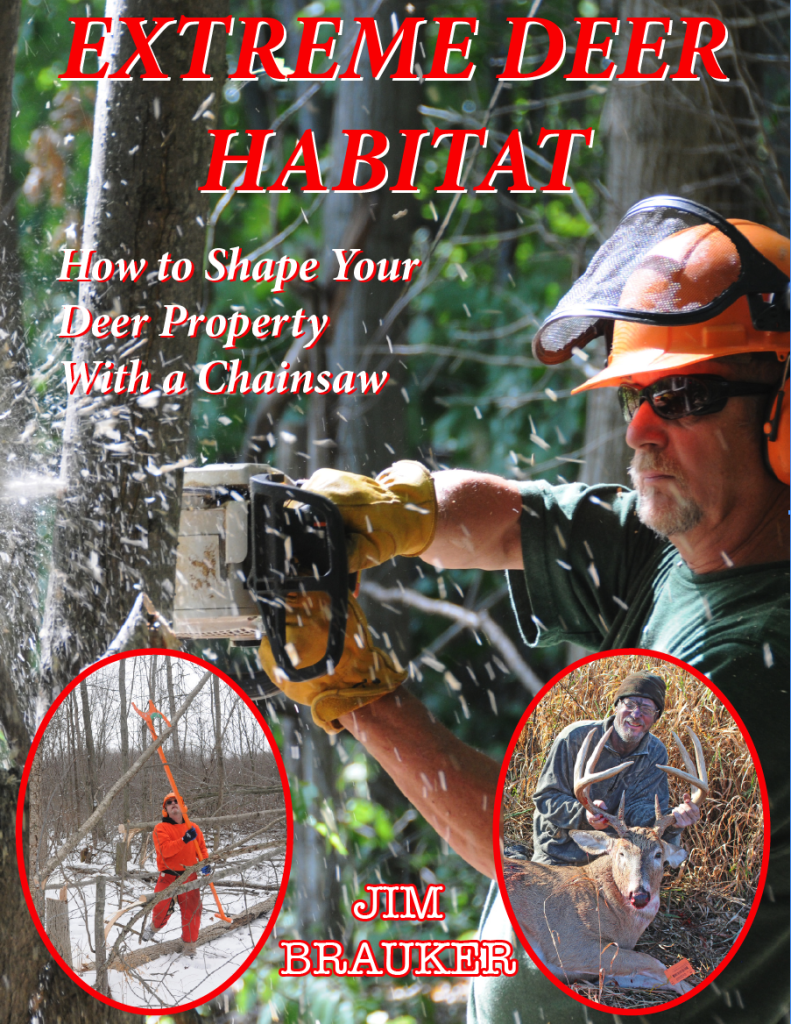 Buy the property owners guide to extreme deer habitat and set up your deer hunting property to optimize movement of deer for quality deer hunting.

ONGOING EDUCATION.  FREE VIDEOS AND ARTICLES Click Here.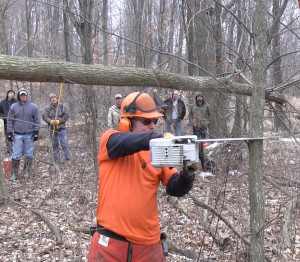 Share and Enjoy